Identity Management
Identity Management (IdM) are IT systems and applications that administrate information about the identities of users – if required, completely automatized.
Complexity and risk without Identity Management
You know one or more of the following problems?
It takes very long until a new employee gets his or her own e-mail account.
A former employee still has access to your systems.
You have to remember several passwords for every application or service.
There are no or only inconvenient processes for creating a user account.
The system administration or helpdesk is overextended by the administration of the many user accounts (e.g. setting new passwords etc.)
Conventional user management stores user accounts and staff data redundantly in different databases and applications, which leads to additional administrative expense.
If a new employee (in our example Mrs. Smith) arrives in an organization without an Identity Management system, she has to contact a number of different administrative staff members or admins to be registered into various data bases and to get new accounts and access to certain resources.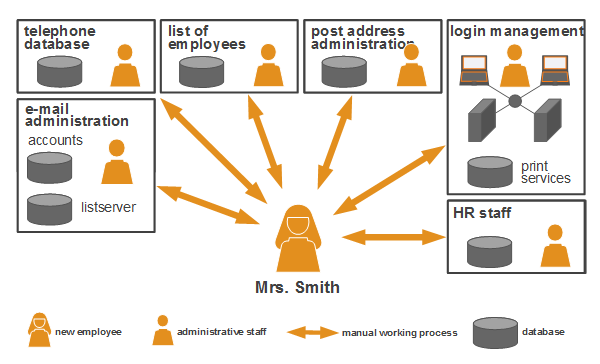 If an information of Mrs. Smith changes, e.g. her position, name or address, she has to contact all admins again. When Mrs. Smith leaves the organization, all concerned staff members will have to change the respective access rights immediately to prevent security risks.
In summary, missing Identity Management leads to
much more administration expense (and thus, more costs),
redundant and inconsistent amount of data and
risks in security and data privacy.
More efficiency and security with Identity Management
Identity Management uses several technologies to automatically synchronize the individual systems and databases. This often happens by a central database that is administrated in a directory service (in this case called metadirectory).
With a metadirectory, the data only have to be entered and administered in one place. The metadirectory automatically updates and synchronizes the data among all connected databases and target systems.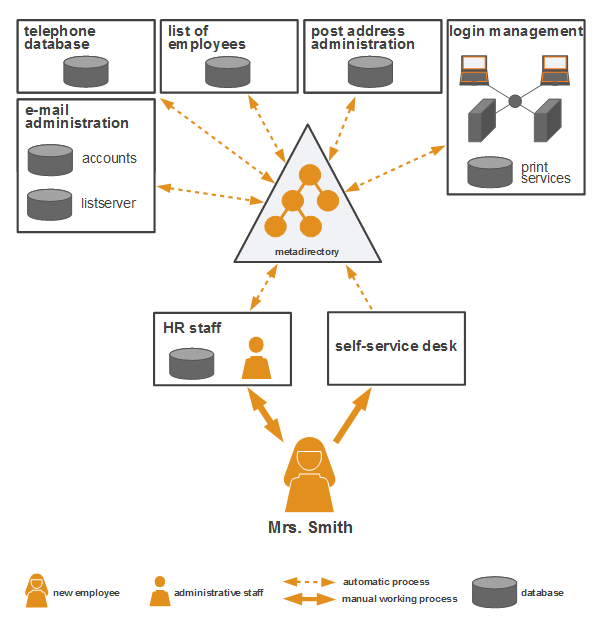 In this way, Mrs. Smith can conveniently have her data changed at a helpdesk or by the HR staff. When she is leaving the organization, some clicks are enough to securely delete her data and access rights.
Advantages: In short, Identity Management helps to
reduce administration expense and costs and increase efficiency
Time is money. Due to optimized workflows the effectiveness of your staff will be increased, time will be saved, and thus costs will be reduced.
establish consistent data and data structures, and ensure a high level of security and data privacy
Administrating data at a central place will ensure clear structures and up-to-date data. Therefore, possible (addressing) errors will be prevented, the understanding of your systems will be facilitated, and storage capacity will be deallocated.
increase Employee satisfaction
Your administrative staff will be relieved by automatic and clear processes. Additionally, your employees will be thankful that they only have to approach a central office, if accounts are created quickly and automatically, and if they only have to login once a day to access all necessary services.
Identity Management is recommended to all organizations that work with many identity information: universities, authorities, institutions, large-scale and midsize companies etc.
Depending on the organization, identities are for example employees, members, guests, customers, students, or in the case of Internet of Things (IoT) and Industry 4.0 every 'thing' that communicates via the network.
DAASI International is experienced in working together with all organizational forms and in flexibly integrating Identity Management systems into various IT structures.