As IT service provider, DAASI International is involved in several research projects and also would love to support your projects.
Our services
Research involvement
Having academic origins, DAASI International has always been involved in various national and international research and standardization projects, and has a deep understanding for humanistic tasks and questions.
DAASI International is specialized in digital research infrastructures. As one of few private service providers, DAASI International offers a comprehensive service spectrum on two levels: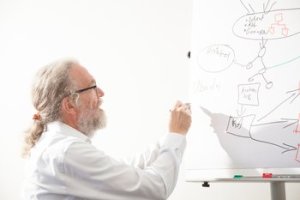 Services on a technical level
development and implementation of suitable AAIs (Authentication and Authorization Infrastructures)
deployment and, if required, modification of software
development of databases and visualization tools
planning and realization of an organizational IT structure

conception of long-lasting operational models

consulting regarding the question, how new applications and tools can be integrated in collaborative systems
Services on a project level
procurement of suitable cooperation partners for research projects
assistance at filing applications

contributing experiences as reliable partner with national and international cooperations
participation and support in project management
involvement and representation of special interests in national and international standardization committees, e.g. OASIS, IETF, W3C, GGF
Reseach projects
Recent research projects
Recently, DAASI International has been partner and contributor to following research projects:
In DARIAH-DE – the German partition of the European project DARIAH (Digital Research Infrastructure for the Arts and Humanities) – researchers of different humanistic disciplines work together with computer scientists and technology providers to develop digital methods, establish work procedures and approach research questions in a new way. [more about DARIAH-DE]
The aim of the project AARC (Authentication and Authorisation for Research and Collaboration), sponsored by the European Commission, is to create a global AAI for education and research. [more about AARC]
TextGrid is a virtual environment for humanistic scientists for collaborative, methodical text production with standardized interfaces to research data, publication software and other research tools. [more about TextGrid]
The goal of "RiR – Relationen im Raum" (English: Spatial Relations) is to analyze and visualize the spatial relationship of tombstones on Jewish cemeteries. [more about RiR]
HyperImage is project in collaboration with the Leuphana University of Lüneburg, that utilizes the principle of footnotes, that gets applied for texts, for images [more about HyperImage].
You would like to implement your research project together with DAASI International?
Just send us a noncommittal request. We would be happy to consult you and see, how we can assist you.