Initial Release of "Crust": DAASI International Co-Developed Part of New Open Source Work Platform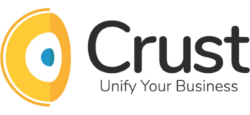 On March 12th 2019, Crust Technology Ltd. has rolled out the work platform "Crust", which unifies essential business applications like customer relationship management (CRM) and messaging as well as identity and access management (IAM) in just one tool. This is why it is not only a promising open source alternative to proprietary software like Salesforce or Slack, but offers an entirely new kind of user experience, since multiple applications are employed within one digital work environment.
The software supports organisations when working and communicating internally, as well as when cooperating with customers, suppliers, partners or other external third parties. It is possible to integrate your own services as well as the applications offered by Crust:
Crust CRM is the open source alternative to Salesforce and allows for an easy communication with prospects, customers and team members.
Crust Messaging is the communication tool of the platform and an open source alternative to Slack.
Crust Unify is responsible for the particular user experience which the Crust application offers. In the background, it is supported by a modern identity and access management platform.
With DAASI International, the founder of Crust, Niall McCarthy, has brought on board an IT service provider for federated identity and access management based on open source products, that's leading in Europe.
"It is wonderful to see that both our companies share the vision of providing organisations with an open and extendable tool for the administration of essential business processes. We are glad to be the partner of such an ambitious project." – Peter Gietz, CEO and founder of DAASI International
As an expert in the area of IAM, DAASI International is not only an investor in Crust, but is also responsible for the design and support of the modern identity and access managment feature of the platform. The reselling partner also offers services in the areas of consulting, hosting, and support.
"We are happy to have a company with the reputation and abilities of DAASI International on board. Modern identity and access management is a complex topic. Companies need to be able to trust that the solutions they are using to run their businesses are secure and functional, and were developed by experts. This is an essential part of the Crust experience." – Niall McCarthy, CEO of Crust Technology
Companies who are interested in Crust products and services are invited to contact DAASI International via business@daasi.de. More information on Crust can be found at www.crust.tech and at our website.
About Crust Technology Ltd.

Crust Technology Ltd., located in Ireland, is the driving force behind the open source platforms Crust and Corteza. It offers its customers a flexible self-hosted platform, through which companies can work and communicate internally as well as contact customers, suppliers, partners and other third parties. The integrated approach of Crust Technology Ltd. for identity, messaging, and business logic offers a user-friendly and yet extendable option to manage users and applications which companies need on a daily basis – no matter if it's in the cloud, behind a firewall or in a hybrid system. More information is available at www.crust.tech or if you follow @crusttech on Twitter.
Subscribe to our newsletter
Categories
Archives