Peter Gietz as Guest on Podcast for Digital Humanities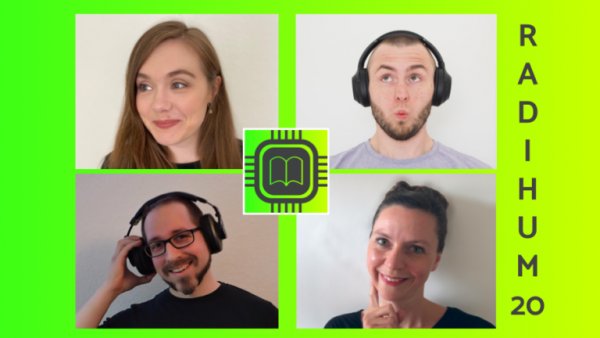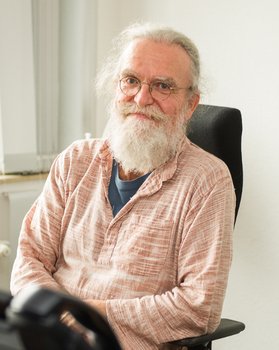 Since July 2020, the podcast RaDiHum 20 takes the Digital Humanities out of the academic context and brings it into our homes. In each episode, new guests discuss different topics with the team of hosts, for instance which new technology is gaining more traction, interesting new projects, or upcoming workshops within the context of Digital Humanities. The team consists of Mareike Schuhmacher, Lisa Kolodzie, Patrick Troschka, and Jonathan Geiger. The four met each other during a Dhd1 conference and decided together to start their very interesting podcast. Ever since the podcast aired its first episode, the team releases at least one new episode each month. In the April episode, a digital humanist by passion accepted the invite to join the hosts: founder and CEO of DAASI International, Peter Gietz, who has been active in the digital humanities community since the 1980s.
Peter Gietz pursued a degree in Indology when he came in contact with IT for the first time as part of his research assistant job at the University of Tübingen, which then eventually led him to TUSTEP2, a digital text processing tool, developed by the Centre for Data Processing of the university. In the coversation with Mareike Schuhmacher and her team, Peter Gietz described how literary and documentary data processing developed and eventually became what is nowadays commonly called Digital Humanities. This process also allowed the corresponding community to flourish, which is one of the many outstanding aspects of the Digital Humanities today.
Peter Gietz considers the founding event of the Dhd association groundbreaking for the development of Digital Humanities in Germany, which took place in Hamburg in 2021. To his own surprise he left this event as part of the board of directors in the role of the treasurer. Fianally, all people interested in DH had a forum for scholarly exchange. Moreover, DH also finally had voice in the newly founded association. To this day the association continues to be a champion for the disciplines of the humanities. Even though DH influences all of the traditional disciplines of the Humanities, Peter Gietz sees DH as its own discipline as well. The Dhd conference takes place annually and represents the summit for all German-speaking Digital Humanities. It offers a plattform to introduce new projects, exchange ideas, and especially allows for the discussion of different questions in regards to computer-aided research in the Humanities. You can listen to the whole episode here (podcast and episode available only in German).
We at DAASI International would like to take this opportunity to thank RaDiHum 20 for this interesting podcast and the opportunity to participate.
We are already very much looking forward to season 2!
[Information on RaDiHum 20 as well as all their episodes]
1:Dhd: Digital Humanities im deutschsprachigen Raum, DH association of the DACH region.
2:TUSTEP stands for Tübinger System von Textverarbeitungsprogrammen
Subscribe to our newsletter
Categories
Archives