Call for Feedback: Editable, Open Source Game for Education and Research in the Digital Humanities
DAASI International, in cooperation with Archimedes Digital, is planning to crowdfund the development of an editable, Civilization-like game for education and research that uses continuous input from Digital Humanities researchers to answer research questions, to simulate real historical conditions, and to convey knowledge through gamified digital procedures. For this open source community project to be successful, DAASI International asks for feedback.
Computer games are increasingly used for educational purposes. The playful interactivity they offer provides learners not only with crucial motivational aspects that keep them playing and thus learning. Exploring a virtually simulated world individually through procedural mechanics also helps them understand complex causalities that a simple simulation or text-based instruction could not teach in such an individual and autonomous manner.
Furthermore, intelligent games that realistically simulate certain aspects of the real world can raise and answer completely new research questions – especially, if many "academic" players play collaboratively around the globe to solve new questions in a rather scientific way.
However, games developed for learning are often made for a younger audience, hence they offer rather simple mechanics to explain only few particular phenomena. Additionally, the knowledge conveyed is often outdated not long after the game's release, for example when new research results emerge.
Currently, there are hardly any games for an academic audience that rely on the most recent research data (let alone the lack of games with the purpose to answer research questions) and that are updated continuously, with changes to the game's rules if new scientific findings require it. Such games would not only be useful tools for students to foster academic learning, but also for researchers who want to share, visualize and simulate their research results. Such games would benefit even more from an interdisciplinary collaboration.
A game from academics for (prospective) academics
DAASI International wants to be a game changer. As an expert for digital research infrastructures and as experienced supporter of the Digital Humanities, DAASI International plans to crowdfund the development of such an academic game that fosters learning, serves as a tool for collaborative research, and is fun at the same time. For this project, DAASI International partners with Archimedes Digital, who is usually developing archive as a service (AaaS) solutions and augmented reality simulations within the Digital Humanities. As specialists for Unity and knowledge management, Archimedes Digital is predestined for the development of a game like this.
Inspiration comes from the strategy game series Civilization. It combines historical, geographical and societal aspects that are interconnected to each other in the game's mechanics, making it an exceptionally suitable game for the Digital Humanities – leaving room for additional aspects from humanities disciplines such as history, cultural studies, economics, religious studies etc. There already is an open source alternative to Civilization called FreeCiv, which could be the basis of the academic game, although FreeCiv's aged graphics and UI would need noticeable improvement in order to be attractive for a younger audience.
Right now, Civilization and FreeCiv feature gameplay rules that are only loosely based on real history. The mechanics like tech trees are simplified to make the games as enjoyable as possible. But for educational and research purposes, the game would hugely benefit from more realism, complexity and academic background information. Although similar and more complex games exist (e.g., Europa Universalis), these games do neither offer the option to focus on certain learning aspects, particularly with regard to university or school curricula, nor to pursue research questions in a meaningful, systematic and collaborative way. The thought game is supposed to change this.
Nevertheless, adding too much complexity would make the game unplayable for one person alone. Since the academic game is supposed to be more complex and thus more realistic, one Civilization does not necessarily need to be played by only one person. It is envisaged that a person can represent one minister only, being in charge of one aspect of the game. Just like in other multiplayer games, the players in one team (= one civilization) can communicate via chat and/or online audio to coordinate their actions.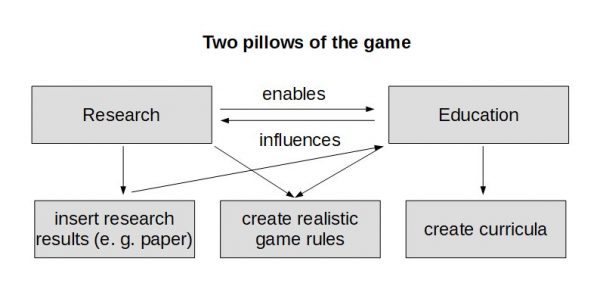 What features should the game offer?
The end result should be an open source game that provides a complex editor for researchers and educators. The following features are envisaged:
a multiplayer strategy game, playable in a browser, with realistic procedures (e.g., tech trees) and accurate historical representation, referencing current research data
research papers and references will be shown at an appropriate moment in the game for further reading and online discussion (including a commentary section / a message board)
predefined campaigns and rule sets that are adapted to university or school curricula, where educators and learners can choose certain time periods and places, and can deactivate irrelevant mechanics to focus on particular learning aspects (e.g., "German curriculum 9th grade, History, Napoleonic Wars, focus on French economy")
a collaborative web frontend editor with the following functions:

create / add / optimize tech trees and general game rules according to the current state of research and/or to current school / university curricula (with comprehensible references)
implement / document / administer research results (including a version control, access / admin rights, the option to adjust when and how the results should be depicted etc.)
create / add / optimize realistic landscapes and maps according to current geographical, meteorological etc. research
implement graphical assets

a modern UI that should surpass even the one of Civilization
a detailed wiki documentation
a multiplayer function so that players can work with or against each other (including a chat system, a trade system, the possibility to play together online, via network or even on one device (in turns))
following aspects / mechanics should be implemented:

culture (arts, language, architecture)
economy
religion
geography / climate
politics
technology
war / battle
medicine / health / welfare
…
What is the plan?
The plan is to finance Archimedes Digital for half a year via the crowdfunding campaign to develop a first playable prototype of the game. The prototype is supposed to be an already working multiplayer game with one of the above mentioned features that works extraordinarily well. The open source prototype is then thought to be further developed collaboratively by an eager community of researchers, educators, students, and fans of Civilization. If the campaign is a success, DAASI International and Archimedes Digital will search for further financing options.
How the prototype will look in detail, depends on the community. The community and especially the backers will be involved in all stages of the game's development. They determine what feature should be implemented first, and what engine should be used.
Of course, the game follows no commercial goals and will be free and open source after development.
DAASI International and Archimedes Digital need your feedback
In order to get an impression of how many people would support this idea, DAASI International and Archimedes Digital need your help, especially regarding the following questions:
How do you like the idea?
What expectations would you as a researcher/educator/student/gamer have for such a game?
What feature is more important: the implementation of research results, the systematic answering of research questions, or the creation of curricula-specific campaigns?
As a researcher, what kind of research question would you want to answer with such a kind of game?
Would you like to have other features implemented that are not listed above?
Would you support the campaign financially on a crowdfunding platform?
What rewards would motivate you to fund the game?
Is the OpenGL engine of FreeCiv sufficient or should the game be developed from scratch (and thus, later editable) with the Unity engine?
DAASI International is thankful for any kind of feedback. Please do not hesitate to write your comments and questions below this post or via the contact form! With your support you help to drive forward research, education and computer games, especially in their productive combination!
Subscribe to our newsletter
Categories
Archives