DAASI International Brings Crust to Univention Corporate Server
[Joint Crust Technology and DAASI International Press Release]
Tübingen, 22 January 2020 – We're excited to announce that Crust, the open source Low Code, CRM and Service Automation platform is now available on the Univention Corporate Server (UCS) via the Univention App Center.
UCS, created by Univention, provides companies with a complete solution for the administration of IT infrastructures, applications, resources and users. With the addition of Crust in the Univention App Center, UCS users can easily add the entire Crust suite to their UCS instances. This includes:
Crust Compose for Low Code Development and End-to-End Business Automation
Crust CRM
Crust Service Cloud for Customer Support and Service Automation
Crust Enterprise Messaging, a self-hosted messaging system for secure communication
Crust Corredor, for automating repeating tasks with End-to-End Business Automation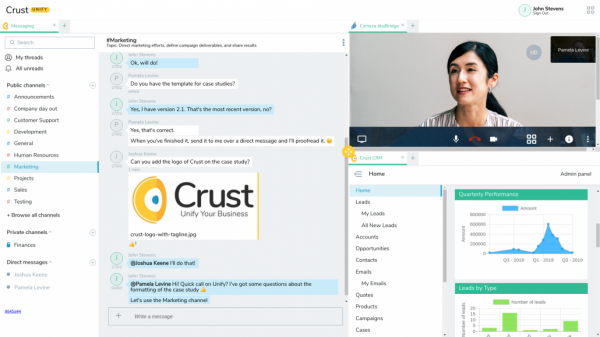 Additionally, DAASI International, a German and European leader in open source Identity and Access Management has seamlessly integrated their didmos Authenticator offering with the advanced UCS Management system. DAASI International will be responsible for distributing the Crust platform on UCS and supporting all Crust customers.
"We are delighted to welcome the Crust platform to our App Center family" says Nico Gulden, Product Manager Apps at Univention. "We're always on the look out for open source alternatives to major proprietary vendors that increase the options of choice for our users on their way to Digital Souvereignty."
"As not just a partner of, but also an investor in Crust Technology, releasing the platform on Univention is a notable step for us" adds Peter Gietz, CEO of DAASI International. "It is becoming increasingly important that major applications treat the subject of identity as key to their success. Being available on UCS opens doors to markets that appreciate both customer and digital sovereignty by default."
"Crust is very excited about this launch" says Niall McCarthy, CEO of Crust Technology. "Univention has been a leader in providing self-hosted technology in Germany and further afield for a number of years. A key strategic goal for Crust is to build and evolve to satisfy the growing and ever-more complex requirements of enterprise customers who demand feature sets which match traditional cloud providers while protecting their digital sovereignty."
How to Get Crust on Univention Corporate Server?
A free Crust trial can easily be installed via the Univention App Center inside UCS. If you don't have UCS yet, you can visit https://www.univention.com/downloads/ to download it. A Crust subscription, starting at 24 euro per user per month (discounts are available), is needed after the free trial. For more information, please contact Crust at www.crust.tech/
About Crust:
Crust Technology Ltd, headquartered in Ireland, is the driving force behind the open-source Unified Work platform Crust, providing a flexible, self-hosted platform for your organisation to work and communicate internally while engaging with its customers, suppliers, partners and other third parties externally. Its integrated approach to identity, messaging and business logic delivers a simple-to-use yet extensible means for managing users and the applications they require every day, whether in the cloud, behind the firewall or a hybrid of the two. For more information, visit www.crust.tech or follow @Crusttech on Twitter.
About DAASI International:
DAASI International is an expert in federated Identity and Access Management based on open source. Since its founding in 2000, the IT service provider from Tübingen, Germany deals with identity management, access control and directory service technologies for universities, public authorities and companies. In addition, DAASI International is actively involved in the field of Digital Humanities and participates in national and international research projects, including the digital research infrastructure DARIAH-DE. DAASI International's range of services covers consulting, support, hosting, and software development.
About Univention:
Univention GmbH (www.univention.com) is a leading European manufacturer of open source products for the operation and management of IT infrastructure, headquartered in Bremen.
Univention Corporate Server (UCS) can be used as a classic server solution in the cloud or in hybrid scenarios. UCS is an economical alternative to Microsoft server solutions and includes comprehensive Active Directory capabilities and an App Center that integrates and operates more than 90 enterprise solutions into existing IT environments.
Subscribe to our newsletter
Categories
Archives