DAASI International Is Member of the Open Source Business Alliance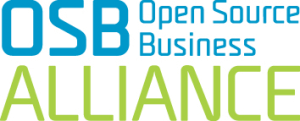 As convinced supporter of open source, DAASI International does not only develop and implement open source products, but is also in close contact with other open source providers, and advocates for open standards as well as open source software free of licensing costs within committees and several memberships. Therefore, DAASI International rejoices at another membership in the association who stands up for the potential and the central ideas of open source, and who promotes the interconnection of corporations and administrations in this sector: the Open Source Business Alliance (OSB Alliance), to which DAASI International has already had long-lasting contact.
Founded in 2011 by a conjunction of the German Linux Association (LIVE) and the Linux Solutions Group (Lisog), the OSB Alliance combines personnel and financial resources to consolidate the trust of industries and administrations in open source software. The OSB Alliance acts as voice for open source towards German government and economy, and supports its members with the help of several activities like cooperation projects, joint booths, networking events, public relations etc.
DAASI International views the membership as consequent continuation of a concept of cooperation. The OSB Alliance is the ideal platform to bring forward political matters collectively, and to reduce the dependence of single software developers, especially in public administrations. There are competitive, alternative offerings on the market, whose visibility is facilitated by the OSB Alliance.
The OSB Alliance's guidelines are in accord with the mission of DAASI International, and emphasize the manifold advantages of open source solutions, for example:
gain of independence of single software developers, and securing of a fair competition
high innovation potential with low market entrance barriers towards an agile IT economy
fostering of interoperability among different systems, infrastructures, and software solutions by open standards
consolidation of open cooperations based on open communication
endorsement of net neutrality
Due to these reasons and other advantages, like flexibility, security and cost saving, DAASI International espouses open source and recommends her customers both in the areas of Identity & Access Management and Digital Humanities to use open source solutions. With the membership in the OSB Alliance, DAASI International wants to support the guidelines and goals of this association and to fulfill her own mission to contribute to the common good.
Subscribe to our newsletter
Categories
Archives